The new GPS-enabled mapping application, that we mentioned a couple days ago is now available.
RouteBuddy is a GPS mapping application for OS X. All the essential functions of your GPS device are supported; all you need is a Mac, a GPS, and of course RouteBuddy.

Features include:
Downloading and Uploading Waypoint, Route and Track data
Searching Map data with FastSearch
Recording live GPS data and tracking your route
Connect multiple GPS devices to your Mac
Open several RouteBuddy Map pages at once
Viewing and Printing full-screen maps
Smooth Synching of your data with your GPS device
Buying Road mapping for Worldwide countries
Exchanging RouteBuddy map data with other users
Harnessing the power of Google Earth and Google Maps from within RouteBuddy
Share Geocache and other location data
Import Geotagged URLs from the major online map services
Add useful Meta Data to your Maps and Waypoints
Post RouteBuddy URLs online to share with other users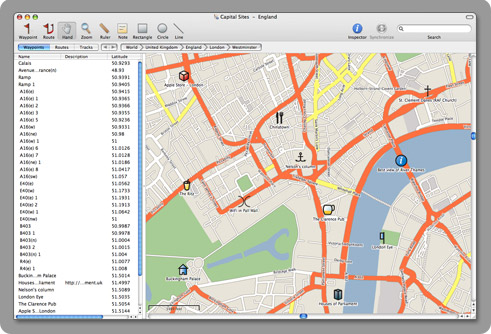 RouteBuddy is compatible with USGlobalSat GPS devices, Garmin USB GPS devices and also supports standard NMEA communication.
A fully functioning watermarked demo is available on their site. RouteBuddy retails for $99.50 and maps range from $39.50 to $69.50.
Full details are available on their website.