A big thank you goes out to AutoWeek for alerting MacVroom to this sweet story!
Goodbye Bonbons (sorry, ladies), hello "Dibs."
To promote their new frozen ice cream snack, Dreyer's/Edy's created "The World's Littlest Ice Cream Truck" – actually, a specially-shaped Mini Cooper S. But more important to MacVroom readers is that this "ride" has been taken to the next level and Mac'd out!
Ron Canyon of Canyon Motors Shop in Culver City, California customized the car. To get the ice cream truck look, Canyon researched ice cream trucks on the Internet, checked out Dreyer's own antique truck parked at the corporate HQ in Oakland, and looked at even more photos from a movie and TV car specialist. What took 2 hours to take apart took 10 weeks to put together.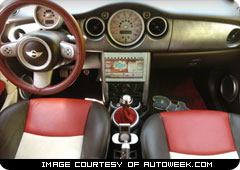 Dreyer's/Edy's (it's the same company, but called Dreyer's in the West and Edy's in the East) chose the Mac mini for its size and its Bluetooth and iPod compatibility. The Mac mini and an HP Tablet PC are used for various promotional duties. The team wired the insides with 14 audio speakers and 4 TV screens – one in the dash, and 3 that pop up through the roof so passersby can watch Dibs commercials.
Canyon Motors also fabricated the body with flared fenders in the back to give it the "old ice cream truck" look. The Mini Cooper features a race-ready four-point roll bar with rearview mirrors, gear-shift knob and emergency brake handle made to look like giant Dibs snack items. Novi-Cool in Canada custom-built the freezer compressor just for the Dibs hauler and the back has an insulated slide-out tray full of Dibs samples.
Servers expect to dispense 2500 boxes of Dibs a day. So look out for the little truck (currently on a 10-city cross-country tour) cruising with the "hottest snacking trend of the summer" – a crunchy nut and chocolate-covered mini treat.
Click here for the original AutoWeek article with additional pictures.
Click here to read the press release.