MacVroom was lucky enough to score the last 4GB iPod nano
in-stock at our local Apple Store. We are planning on integrating the iPod nano into our Mac mini MR2 install. For those of you that have not experienced the nano in person, it is an amazing must-have (and hold) gadget. We have been previously toting a 60GB iPod, but the diminutive size of the nano drove us to test it out as a pocket-friendly replacement.
Our only disappointment with the iPod nano was that Apple chose not to include any type of case to tote it around. Additionally, because the nano is so new, no other third-party cases are available yet for it. Like other iPods, the nano has a shiny chrome back and the face is a high-gloss white or black plastic, which are both fairly easily marred.
We decided to take matters into our own hands and make a simple protective sleeve for our new nano…
We started with something that would be both protective and useful to shine up the iPod nano – a soft chamois cloth. Chamois is also fairly thin and will not add much bulk. Lucky for us, Apple includes one of these cloths with their Cinema Displays, so we had one on hand.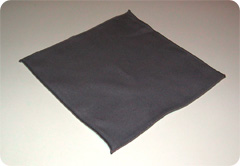 If you don't have a chamois, we recommend picking up the iKlear Apple Polish Kit (available online or at your local Apple Store). The kit includes a bottle of the iKlear spray polish (which is great for cleaning all kinds of computer surfaces), a large chamois and a small travel micro-chamois which is a perfect size for using as an iPod nano case.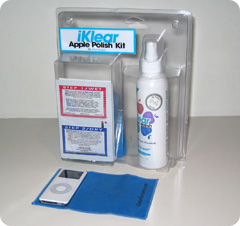 We simply folded the chamois around the nano and cut it slightly larger (roughly 4 1/2″ wide by 3 3/4″ high).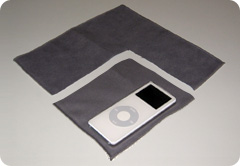 Next we took the cut chamois, folded it in half and sewed a simple overlock stitch along the two cut edges. The finished edge is left open and allows for inserting the nano into the sleeve.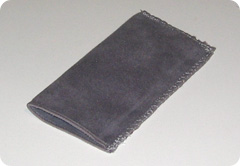 To finish the sleeve, simply turn it inside-out and slide in the nano. Voilà! Now our beautiful little nano will be nicely protected in our pocket and also ready for a nice shining!